Spiral Cyclone Dust Collector for Cement Plant Chemical Plant
Product overview
1. The dust removal efficiency of the cyclone is generally improved with the increase of the dust load, and if the cyclone is well designed, it can be used to collect the dust that can be conveyed in the air stream.
Environmental protection and energy saving running smoothly
Handle large air volume strong dust removal
The dust removal efficiency is more than 99.9%, fully in line with the regional emission standards
Easy maintenance and replacement operation
Customized quality assurance
Solve the dust removal problem once
More than 10 years of industry experience one-stop service
Good faith big manufacturers have after-sales protection
Parameters of spiral cyclone dust collector for chemical plant in cement plant:
Model
Inlet flow volum
(m/s)
Dealing capacity (m3/h)
Obstruction(kg/m2)
Efficiency
(%)
Dimension a×b×h(mm)
Weight
( kg)
X

Y

X

Y

CLP/B~3.0

12-27

630-1050

30-90

27-75

85-99

438×381×1606

439×318×1360

66

CLP/B~4.2

1280-2138

603×534×2172

630×534×1375

108

CLP/B~5.2

2090-3480

772×685×2764

772×685×2395

170

CLP/B~7.0

3650-6080

994×889×3529

994×889×3089

283

CLP/B~8.2

5030-8380

1167×1040×4110

1176×1040×3600

374

CLP/B~9.4

6550-10620

1332×1094×4671

1332×1194×4110

477

CLP/B~10.6

8370-13980

1495×1345×5232

1495×1345×4621

578
Structural composition of cyclone dust collector: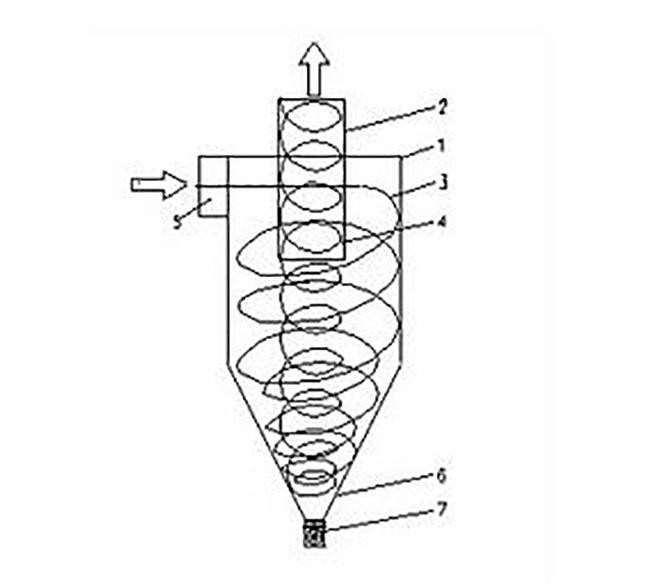 Preparation of cyclone dust collector:
1. Check whether the connection parts are firmly connected.
2. Check the sealing property of the joint of dust collector and flue, dust collector and ash hopper, ash hopper and ash discharging device and ash conveying device, and eliminate ash leakage and gas leakage phenomenon.
3. Turn down the flapper valve, start the fan, and start gradually after no abnormal phenomenon.
Technical requirements of cyclone dust collector:
1. Pay attention to the changes of easy to wear parts, such as the inner wall of the outer cylinder.
2. Pay attention to the adhesion, blockage and corrosion of dust when the temperature of dusty gas changes or humidity decreases.
3. Pay attention to pressure difference and smoke emission. Because the wear and corrosion will make the dust collector perforated and lead to dust emission, so the dust removal efficiency decreases, the exhaust smoke color deteriorates and the pressure difference changes.
4. Pay attention to the air tightness of each part of the cyclone dust collector, and check the change of the gas flow and dust concentration of the cyclone cylinder.
Application field of cyclone dust collector:
Widely used in: woodworking manufacturing, mechanical processing (welding, grinding, polishing and other dust treatment), spraying workshop, metallurgy industry, casting industry, chemical industry, food processing, paper industry and other dust treatment.